16′ ALUMINUM DOUBLE JET SKI TRAILER
If you are looking for a small boat trailer, you may be interested in our aluminum double jet ski trailer. This is a compact and solid trailer equipped with a single axle trailer, high-quality LED lights, stainless steel hardware y much more. Besides, in our shops, you can find accessories to customize your trailer and make your trailer experience something incredible. We invite you to take a look at this single axle trailer
A high-quality single axle trailer
There are many types of trailers. Choosing the one you need mainly depends on your boat size. If you have a big boat, then you will need either a tandem axle trailer (i.e. trailers with two-wheel sets at each side) or a triple axle trailer, in other words, a trailer having three-wheel sets with a load capacity of up to 20.000 pounds.
But if you're in this section is because you've got a small boat. For this kind of boats, you will need a two-wheel trailer also known as single axle trailers. These trailers can carry boats of around 4,000 pounds.
All three types of trailers can operate with an efficient system called torsion system. We invite you to read about it.
The torsion axle system
Our aluminum double jet ski trailer is a single axle model that comes with a torsion system. In this system, the axle tube contains rubber cords or cartridges that provide smoothness, resistance, and stability at high speeds. Thus, the driving experience is amazing because this system avoids bouncing and swaying on the road.
Features and accessories
In addition to having this incredible torsion system, this trailer comes equipped with LED lights and stainless steel hardware and features a beautiful silver color. Remember that in our facilities you can find additional parts and accessories for your trailer.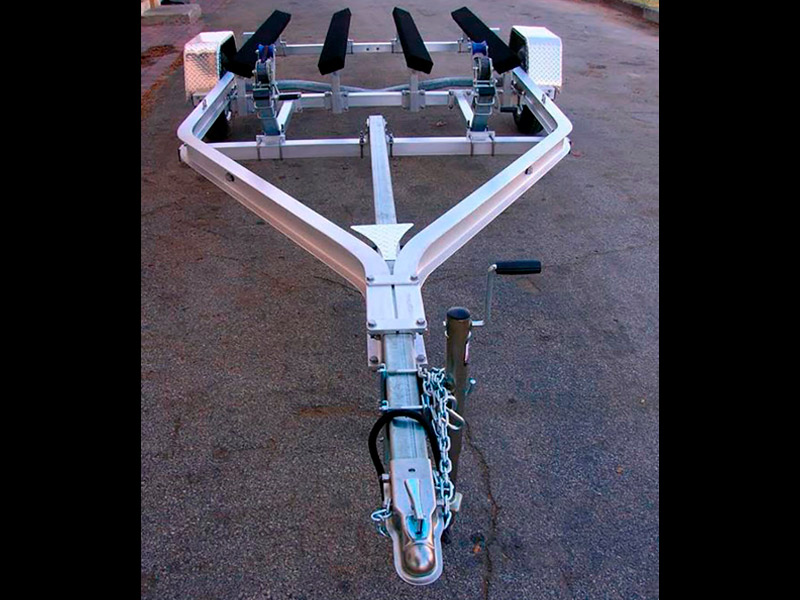 Description
ALUMINUM DOUBLE JET SKI TRAILER

LED LIGHTS
Aluminum, Jet Ski Trailer, Single Torsion Axle
Specs
Condition: New
Manufacturer: Bad 2D Bone
Model Year: 2024
Model: P16-1
Price: Request Quote
Color: Silver
*Price, if shown, does not include government fees, taxes, dealer freight/preparation, dealer document preparation charges or any finance charges (if applicable). Final actual sales price will vary depending on options or accessories selected. NOTE: Models with a price of "Request a Quote" are always included in a $0 search, regardless of actual value.