Boat Trailer
At Bad 2D Bone Trailers we are experts in aluminum boat trailer parts, we offer a wide variety of boat trailer repair parts and accessories for aluminum boat trailers. In our stores, you will find the best brands of rims, hubs, bearings, rollers, jacks, winches, hitches, and much more for all types of trailers from PWC trailers to Goosenecks trailers. We invite you to take a look at all our products.
Support, advice and the best brands.
Keep in mind that you should not only maintain your boat but also pay special attention to your boat trailer's needs. However, you often may not know what is wrong with your boat trailer or what part or accessory you need. Don't worry: at Bad 2D Bone Trailers, we offer you support, advice and the top brands in boat trailer parts and accessories for your needs whether it is maintenance, repair or adjustments.
Boat Trailer Parts & Accessories
Make sure that your boat trailer has all the required parts so that you can tow your boat to and from the boat launch in optimal conditions. Keep in mind that your trailer will be constantly exposed to humidity: in our shop we offer you the best corrosion protection sprays on the market.
On the other hand, make sure that your trailer is running on high-quality and durable tires and trailer wheels. In our shop, you will find the best brands.
Our complete line of tie-downs, cables and locks will ensure that both your boat and trailer will be secure and that you will be able to ride at ease.
Keep in mind that towing a trailer with an improper tongue weight can cause the trailer to sway, wobble and get out of control. In our store you will find the best tongues from the top brands.
The LED lights we offer will give you the best visibility and safety conditions in all weather conditions.
Avoid wear and tear on your boat and costly accidents on your trailer with our line of boat trailer guide poles that guide your craft onto the trailer.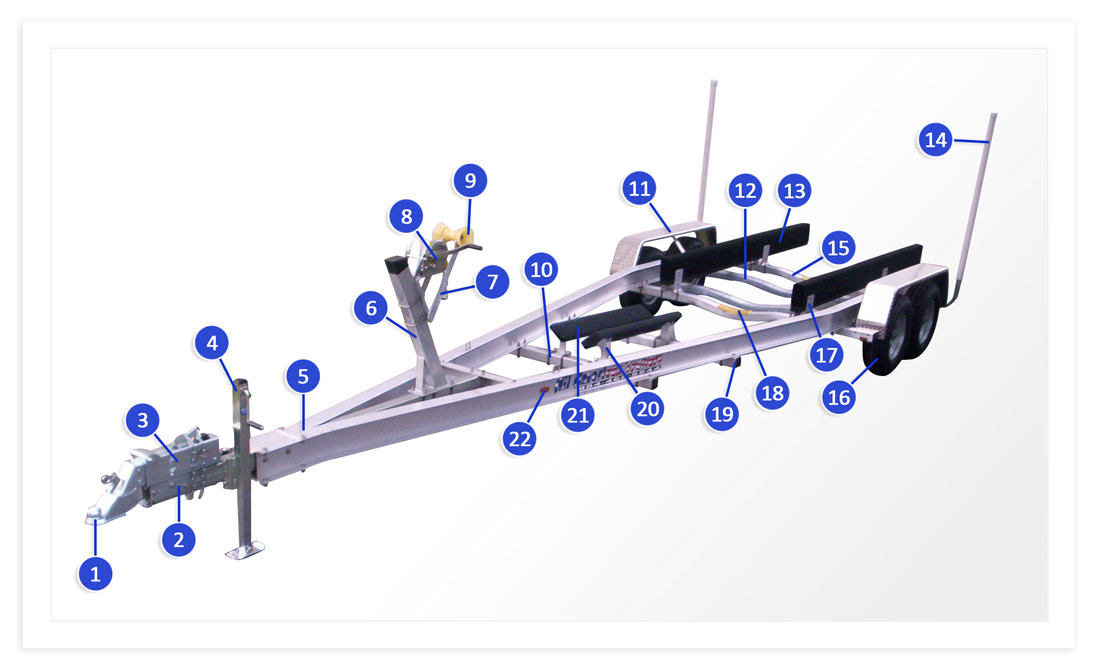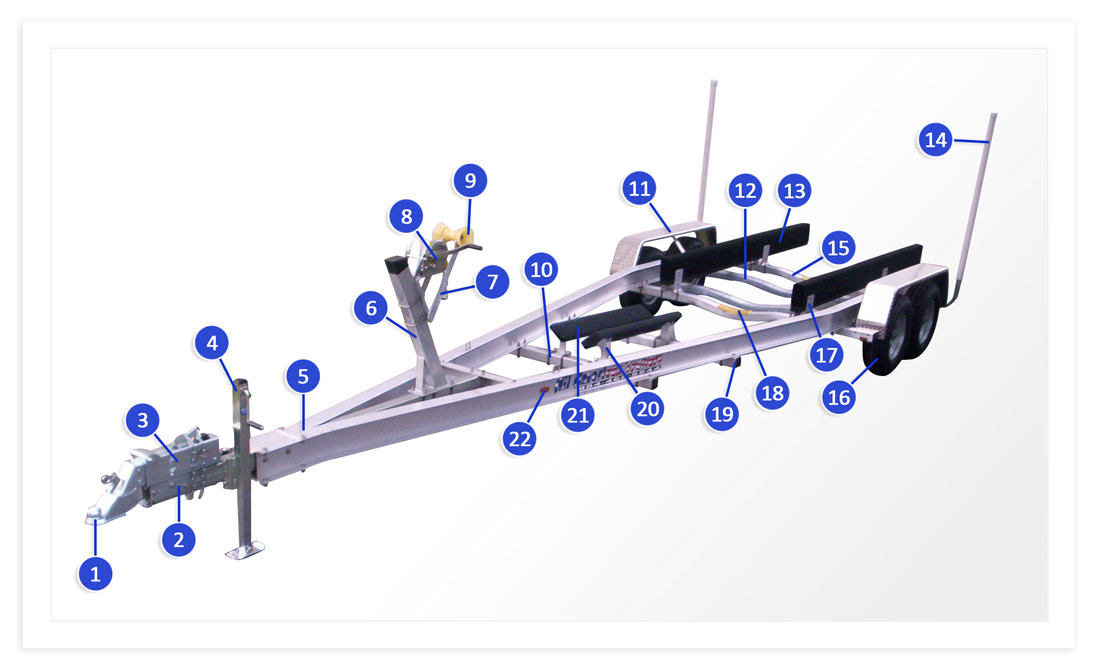 1. COUPLER
2. TONGUE
3. ACTUATOR
4. JACK
5. ALUMINUM I BEAM
6. WINCH STAND
7. WINCH TOP
8. WINCH W/STRAP
9. WINCH ROLLER
10. STAINLESS STEEL U BOLTS
11. ALUMINUM DIAMOND PLATE FENDERS
12. POSI LUBE TORSION AXLES
13. REAR WOOD BUNKS WITH MARINE CARPET
14. ALUMINUM GUIDE POLES W/PVC
15. ALUMINUM V-BEND CROSS MEMBERS
16. TRAILER TIRES
17. ALUMINUM REAR BUNK BRACKETS
18. KEEL PAD
19. CROSS MEMBER COVER CAP
20. ALUMINUM SWIVEL BRACKETS
21. CENTER BUNKS WITH MARINE CARPET
22. LED SIDE LIGHTS
*PLEASE NOTE THAT ALL UPGRADES ARE CUSTOMIZED PER CUSTOMER REQUEST. PICTURES SHOWN BELOW ARE SAMPLES.
SALES TAX FLORIDA LAW => Download pdf
BRAKES LAW:
Florida Law (Statute 316.261) and the law in most other states require brakes on all any trailer with a G.V.W.R of 3000 lbs or more. Any trailers ordered that do not comply with Florida Law should not be towed on public roads. The purchaser accepts all responsibility and liability for use of the trailer. Furthermore, purchaser is responsible for verifying and familiarize themselves with their individual state laws.