19′ ALUMINUM BOAT TRAILER
Do you have a sailboat? Are you looking for a sailboat trailer? Then this section is for you. At Bad 2D Bone Trailers we have trailers for all boats, sizes, and weights. Here we have the 19′ Aluminum Boat Trailer, a small and beautiful trailer for small sailboat-type boats. This is a sturdy trailer built with high-quality materials. It comes with LED lights, stainless steel hardware, adjustable running gear, and much more. In addition in our stores, you can customize your trailer.  We invite you to read about this model.
A single torsion axle trailer
The trailer we present to you today is a single torsion axle. This means that it has one wheel on each side and that its axle works with the torsion system, a system that uses rubber cords or cartridges inside the axle tube which gives it great efficiency, balance, and resistance. This is a small boat trailer and has a GVWR of 2,995 lbs.
Features
Our small boat trailers feature adjustable running gear, galvanized finishes, and waterproof lighting giving your boat the fit it needs. Besides, our 19' Aluminum boat trailer comes with LED lights and stainless steel hardware. Our model comes in a beautiful silver color.
Remember that you can customize your trailer. In our stores, you will find many accessories and parts to change its appearance to suit your taste or needs.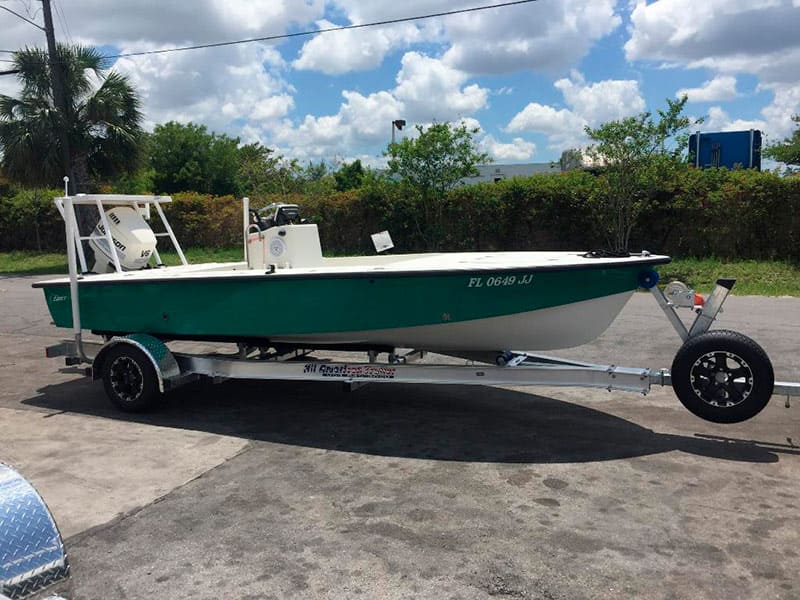 Description
LED LIGHTS

GVWR 2,995 LBS
Aluminum boat trailer, single torsion axles, GVWR 2,995 LBS
Specs
Condition:  New
Manufacturer:  Bad 2D Bone
Model Year:  2024
Model:  BSP19-1
Price:  Request Quote
Color:  Silver
*Price, if shown, does not include government fees, taxes, dealer freight/preparation, dealer document preparation charges or any finance charges (if applicable). Final actual sales price will vary depending on options or accessories selected. NOTE: Models with a price of "Request a Quote" are always included in a $0 search, regardless of actual value.