Pontoon boat trailer for sale! Get to know the BP45-3XH model.
Pontoon boat trailer for sale: the 45′ aluminum boat trailer
Pontoon boat trailer for sale: let's find details about the 45′ aluminum boat trailer, a strong and reliable pontoon trailer ideal for carrying heavy pontoon boats at high speeds. This model comes with triple torsion axles, 4 stake pockets, front and side retaining rails. Remember that in our stores you can find many accessories for your trailer.
Pontoon trailers
As a first measure, we have to remember that a pontoon boat has round pontoon tubes at each side of the bottom that allow it to float.
The pontoon trailers are designed to carry pontoon boats of different sizes. These trailers can have single, tandem, or triple axles. Remember that Tandem axle trailers and triple axle trailers are more resistant and stable at high speeds. The only difference between these two types of trailers is that the tandem structures have two sets of wheels while the others have three.
There are two main types of pontoon trailers: scissor-style trailers and bunk-style trailers. Scissor-style trailers have a long and narrow structure that sits between the pontoon tubes of the boat and lifts it up the deck from the center.
Bunk-style trailers, on the other hand, have a structure with a wide base and two raised bunks that support the pontoons of the boat on each side. Because of the stability it offers, it is a favorite of pontoon boat owners who travel long distances at high speeds.
Features and accessories
This model comes in aluminum, with triple torsion axles and 24K GVWR. It comes standard with a 3500# rubber torsion axle, 14-in aluminum wheels, extruded aluminum floor, front & side retaining rails, 4 stake pockets and 4 tie-down loops (2 per side), aluminum tailgate and special options available in our stores. Contact us, we will provide you with the best options for your needs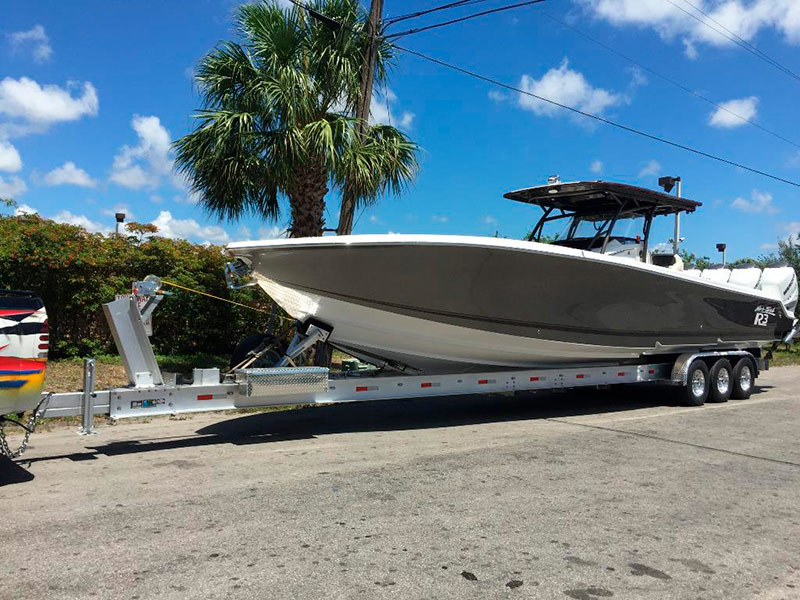 Description
45′ ALUMINUM TRAILER
Aluminum, triple torsion axles, 24k gvwr
Specs
Condition:  New
Manufacturer:  Bad 2D Bone
Model Year:  2023
Model:  BP45-3XH
Price:  Request Quote
Color:  Silver
*Price, if shown, does not include government fees, taxes, dealer freight/preparation, dealer document preparation charges or any finance charges (if applicable). Final actual sales price will vary depending on options or accessories selected. NOTE: Models with a price of "Request a Quote" are always included in a $0 search, regardless of actual value.