26′ ALUMINUM BOAT TRAILER
The 26′ Aluminum Tandem Torsion Axle Boat Trailer is a Torsion Axle trailer classic.  This tandem axle trailer is very efficient on the road and can trail many types of heavy crafts. This model is equipped with LED lights and stainless steel hardware. GVWR: 10,000 LBS. Keep in mind that at BAD 2D Bone Trailers you can customize your trailer with our additional accessories.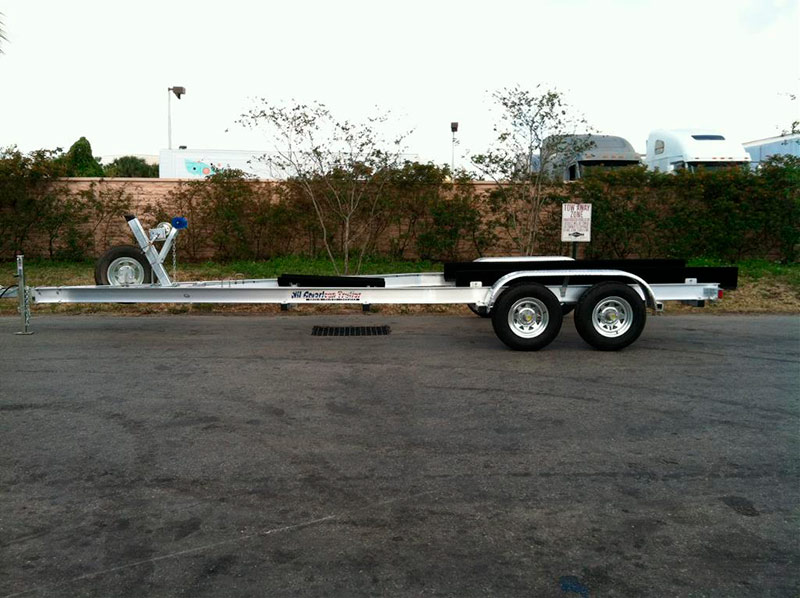 Resistance and road safety
Since this trailer is a tandem axle trailer, it can carry heavy boats and is very safe on the road. The secret lies in its suspension system. This trailer is equipped with a torsion system, specially designed to offer a much smoother riding experience. With this system forget about bouncing and swaying on the road.
That's why the 26′ aluminum tandem torsion axle boat trailer is at the top of the list of boaters who own large, bulky boats and usually travel long distances. But remember: the higher the load capacity, the heavier the boat, the higher the fuel consumption and the higher the price. Besides, this trailer requires more break check and maintenance.
Features and accessories
The 26′ aluminum tandem torsion axle boat trailer comes with led lights, and stainless steel hardware.
A quieter and smoother ride
This trailer offers a smooth, reliable and quieter ride. This trailer is definitely the ideal choice for those looking for greater load capacity, strength and reliability over long distances.
Description
LED LIGHTS

GVWR 10,000 LBS
Aluminum trailer, tandem torsion axles, GVWR 10,000 LBS
Specs
Condition: New
Manufacturer: Bad 2D Bone
Model Year: 2020
Model: BP26-2H
Price: Request Quote
Color: Silver
*Price, if shown, does not include government fees, taxes, dealer freight/preparation, dealer document preparation charges or any finance charges (if applicable). Final actual sales price will vary depending on options or accessories selected. NOTE: Models with a price of "Request a Quote" are always included in a $0 search, regardless of actual value.